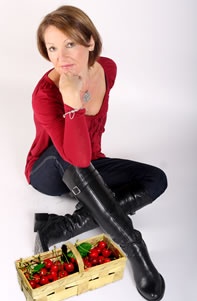 I want to thank you so much for all your hard work keeping us so brilliantly well nourished and sane through the week. So impressed with your knowledge of what food can do the good and bad and really hope to be able to continue learning more and rediscovering cooking again.
S S. London – after a retreat
I visited Suzanne after the birth of my second child, When I started to suffering from irritable bowel. During the visits with Suzanne , she helped me restructure my diet, keeping a low GI diet and omitting foods that would irritate my bowel and adding vitamins and supplements into my day.
Over the course of 2 months, I saw a considerable change in the way I was feeling and now the nutritional knowledge Suzanne has given me, I use in my daily diet.
C P. Santa Eugenia
I have always considered myself to be healthy. A vegetarian diet, regular exercise, but I suffered many years with a number of symptoms including tiredness, sleeping problems, and occasional depression. Following my first meeting with Suzanne, she suggested a yeast imbalance which meant the removal of all forms of sugar and yeast.Within a week I noticed the difference, and 4 months on, I'm still reaping the rewards! I cannot recommend Suzanne's services highly enough.
AMC, Palma de Mallorca.
Dear Krista and all at Cancer Support
Thank you for giving me the opportunity for a personal consultation with Suzanne Garaty from Vital Nutrition. It was really good to be given a suggested food plan tailored for my needs since recently completing chemotherapy, which included places to purchase the items on the island.
Suzanne was very thorough, having researched my medications prior to our meeting so she could offer sound advice based on this knowledge. I am looking forward to trying some of the recipes she provided and realizing the health benefits from making some changes to my diet.
Kind Regards

A.V.Calvia
There is so much conflicting information around about nutrition and what constitutes a balanced diet that it can be confusing to try and make real productive changes without guidance. I found Suzanne to be knowledgable and eager to help me achieve my goals. Not only was Suzanne able to help me work through the information and sift out fact from fiction, but she has helped to tailor an eating plan that suited me as an individual and my goals. Since beginning work with Suzanne I have not only lost 5 kg but I have also increased my energy levels - which is great especially since I have just completed my first marathon! Suzanne also introduced me to new foods and ways of cooking that I now use in my everyday life and treat my family to. I found Suzanne to be approachable, knowledgeable and very supportive. I would not hesitate to recommend her to anyone looking to make changes to their lifestyle.
B N. Alaro