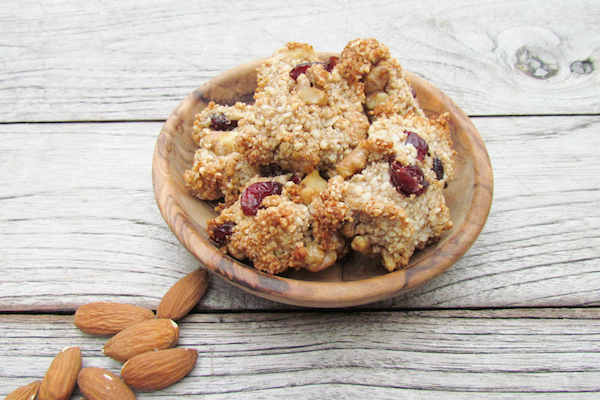 Almond, cranberry and ginger cookies
220g ground almonds (or wiz up blanched almonds until a powder consistency)
1 tsp cinnamon
1 tsp allspice
¾ tsp ground ginger
½ tsp nutmeg
Pinch of salt
1 tsp baking soda
40g dried cranberries (look for the sugar-free, apple-sweetened variety)
40g whole pecans or walnuts, each chopped into 4 pieces
5 tbsp pure date syrup or pure maple syrup
Preheat oven to 175°C
Mix ground almonds, spices, sea salt, and baking soda in a bowl. Stir through the cranberries and chopped pecans.
Stir in maple syrup until well combined. Dough will be crumbly.
Take 1½ tablespoon of the mixture and shape into a rough cookie with your hands. Place on a baking tray lined with parchment paper, pressing each biscuit lightly with the flat of your hand to approx. ½ cm (⅕ inch) thick.
Bake 10-12 minutes, until browned at the edges but still soft in the middle, let cool 10 minutes to crisp up.
Store in an airtight glass container. You can also freeze them, Enjoy, Happy Holidays!!!