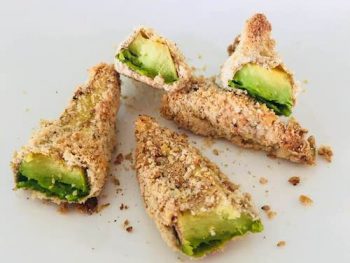 Avocado fries with coriander and lime dip
35g chickpea, almond or your preferred flour
50ml almond milk, or any other plant-based milk
1 tablespoon toasted sesame oil
110g ground almonds
35g sesame seeds
¼ teaspoon each cayenne pepper, chilli powder, ground black pepper and paprika
2 tablespoons nutritional yeast
1 teaspoon chilli flakes
2 avocados, ripe but still firm
FOR THE DIP
80g cashew nuts (soaked for 3 hours)
Juice of 2 ½ limes
Small handful of fresh coriander (about 8g)
2 tablespoons olive oil
1 tablespoon apple cider vinegar
2 sprigs of fresh mint leaves
Pinch of salt
Preheat the oven to 220°C (fan 200°C). Line a baking tray with parchment.
Place the flour in a bowl. Mix the almond milk and sesame oil in another bowl. Place the ground almonds, sesame seeds, all spices, nutritional yeast and a pinch of salt in a third bowl and mix together.
Halve the avocados lengthways, pit and peel, then slice thickly lengthways, making about 5 slices.
Dip the first avocado slice in the flour, making sure it's covered. Then dip it in the milk bowl, followed by the ground almonds bowl. Place the coated avocado slice on to the prepared baking tray and repeat for the rest of the avocado slices. Bake for 20 minutes, flipping half way through.
Once the avocados are done, remove from oven. Leave to cool for 20 minutes; this helps them crisp up.
Meanwhile, make the dip. Drain the cashews and tip in to a blender. Add 4 tablespoons of water and all the other dip ingredients. Blend until smooth. Then dip your avocado fries into the dip – enjoy!