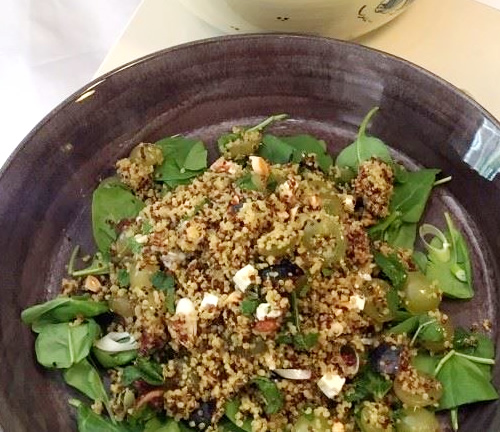 Autumn Mallorcan Tabbouleh Salad
1.5 cups quinoa
3 cups vegetable stock
1 tsp turmeric powder
250g local white grapes, halved and deseeded
4 fresh local figs, diced
150g local fresh almonds
½ teaspoon Allspice or cinnamon
4 spring onions, thinly sliced
2 handfuls flat leaf parsley, finely shredded
1 handful mint, finely shredded

Dressing
6 tablespoons of extra virgin olive oil
2 tablespoons of fresh lemon juice, lime juice or try apple cider vinegar
2 teaspoons of local honey
1 garlic clove, crushed
Rinse the quinoa and place into a saucepan
Add turmeric to the stock and cook over a moderate heat for about 10 minutes, remove from the heat, cover and leave it to absorb any remaining water for 10 minutes, then leave to cool.
Chop the almonds and lightly brown in a pan with the allspice
Whisk the dressing ingredients in a bowl with a fork or shake together in jam jar.
Place grapes, figs, almonds, onions and herbs in a bowl, combine the quinoa and pour over dressing, mix well.
This can be a side dish, or serve with crumbled feta on a bed of rucola or watercress as a lunch.