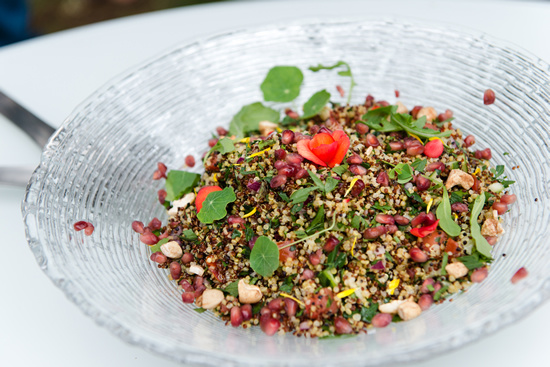 QUINOA TABBOULEH SALAD
Serves 4
1 cup quinoa
1 ¾ cups water or stock
1 tsp turmeric powder
2 medium tomatoes, diced into eighths
1/2 cucumber, slice lengthways, remove seeds and slice
2 handfuls of fresh, flat-leaf parsley, roughly chopped
1 small handful of fresh mint, roughly chopped
1 small handful of fresh dill, roughly chopped
1 large avocado
1 cup pomegranate seeds
1/4 teaspoon of ground allspice
2 tablespoons of flaked almonds, toasted
2 large handfuls of leaves such as watercress, lambs lettuce, rocket
Dressing
6 tablespoons of extra virgin olive oil
2 tablespoons of fresh lemon juice, lime juice or try apple cider vinegar
2 teaspoons of raw honey
1 garlic clove, crushed
Drain and rinse the quinoa well, put in a saucepan. Add turmeric to the stock and cook over a moderate heat for about 10 minutes, remove from the heat, cover and leave it to absorb any remaining water for 10 minutes, then leave to cool.
Meanwhile, dice the tomatoes and cucumber (remove the cucumber seeds by scraping down the middle with a spoon).
Whisk the dressing ingredients in a bowl with a fork or shake together in jam jar.
Make a bed of leaves on your serving plates or bowls.
Combine the warm or cold quinoa, tomatoes, cucumber and herbs with the dressing. Pile the tabbouleh onto the leaves and top with thick slices of avocado and pomegranate seeds.
Dry fry the flaked almonds and ground allspice together for a few minutes on a medium heat until toasted and scatter over the tabbouleh.