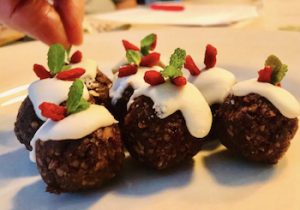 Christmas Pudding Raw Bliss Balls (yields 14 balls)
Ingredients:
1½ cup pecans or almonds
1/4 cup raw cacao powder
½ cup dried cranberries
3 dried figs, roughly chopped
3 medjool or 6 normal dates, chopped & pitted
Zest of 1 orange
½ tsp ground cinnamon
¼ tsp ground nutmeg
¼ tsp ground ginger, or freshly grated
Icing
1/4 cup cashews, soaked in water for 2 hours
½ cup canned coconut cream (only the thick part)
3 tbsp maple syrup
Dash of vanilla bean powder
Decorations Goji berries, marzipan holly leaves, fresh mint etc
Method:
Add the almonds or pecans to a food processor and process until medium crumbs.
Add the rest of the bliss ball ingredients and process until combined, add a dash of water or orange juice, then process again until your mixture comes together, roll into balls then set aside.
For the icing, drain the cashews and add to a blender with the rest of the ingredients. Blend until combined. It need to be the consistency of thin yogurt – if too runny set aside in the freezer for 30 minutes, or until slightly thickened. When it is the texture of thin yoghurt, use a spoon to drizzle onto the balls and decorate. I recommend flattening their bottoms so they don't roll over and spoil!
Store in an airtight container in fridge for up to 5 days or freezer up to a month.