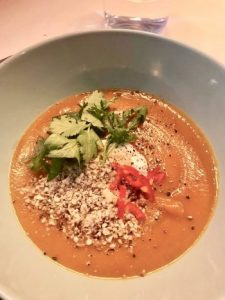 Immune boosting soup – serves 6
1 red onion, finely chopped
1 fresh chili, finely chopped
2cm piece of fresh ginger, peeled and finely chopped
4 cloves of garlic, finely chopped
2 medium sweet potatoes, diced
2 handfuls of goji berries
100g of fresh shiitake mushrooms, sliced
500ml vegetable stock
Saute the onion, chili, ginger, and garlic in a little olive oil along with a good pinch of sea salt, until the onion has softened.
Add the diced sweet potatoes, goji berries, and shiitake mushrooms. Cover with stock and simmer until the sweet potato softens.
Blend into a thick vibrant soup and serve.